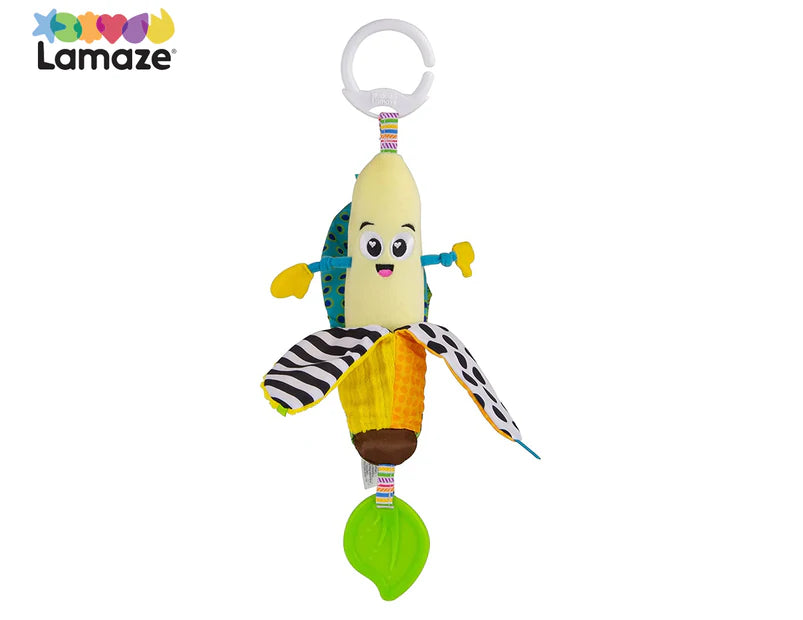 Bea the Banana Clip and Go
Regular price
Sale price
$30.00 AUD
Unit price
per
SAVE
Sold out
The Lamaze Bea the Banana baby toy is a healthy treat full of fun to discover!
Help your baby learn about healthy snacks while grabbing and peeling this soft friend and encourage early development from day one! a custom designed teddy bear- like, soft, infant toy that will make your little one entertained and happy.
Bea comes packed with baby-safe features to become your baby's best companion to play and discover. Its black and white high contrast patterns, satin ribbons, chewy banana leaf and other features will give your little one a vast range of textures, shapes and colours to play and experiment with.
Grab and peel bea to discover a hidden surprise while helping to develop your baby's problem-solving skills! All these features are an excellent support for your newborn's motor development, hand-eye coordination and sensory stimulation, as well as imaginative play. Its friendly design and daffy smile will make your baby's eyes light up every time they see it.
Clip this baby toy to a buggy, pram, or car seat to keep the little one entertained while shopping or travelling as bea is soft, has no-harmful areas or surfaces and contains no parts small enough to be ingested. Bea makes an ideal gift for a baby shower party or newborn's first christmas - give the gift of learning and early discovery!

DEVELOPMENTAL TOY: Created in conjunction with child development experts to inspire healthy play and learning
VISUAL: Bright colours and contrasting patterns engage and stimulate baby's attention and visual perception
AUDITORY: Crinkling sounds designed to engage baby's attention and stimulate auditory development
TACTILE: Various textures help stimulate baby's tactile development and sensory processing
GREAT ON THE GO: Lamaze clip hooks to strollers, carriers and diaper bags for easy fun where ever you go